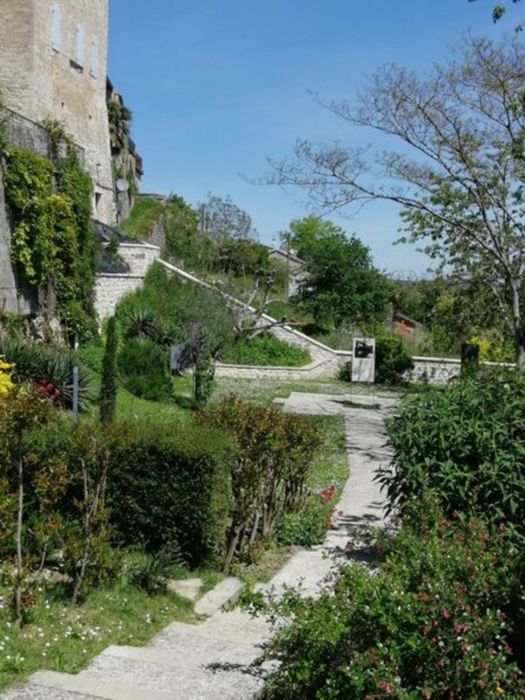 Description
Located at the foot of the old ramparts, the location of the barbican, the garden has a remarkable both for its geographical orientation (vantage point), and the wealth of architectural remains (remains of walls, stairs stone of great beauty equipment).

This garden traces the pilgrimage of Saint Jacques de Compostela and the lives of pilgrims on their way: Initially, hospitality notion of chance, joys and sorrows, crossing bridges, bad meetings, the holiday cottage and covers, miracles . With the support of an architect, a landscape architect, Marianne Sanna, the designer had reconstructed the pilgrims, "the Way of Stars," a staged photographs, songs and verses contemporary poems in a landscaped environment that illustrates directly the vicissitudes of the pilgrim. A board game size: Here the goose game borrows of Saint Jacques de Compostela way and roll the dice equivalent to taking his staff (pilgrim's) . to access to the "Jardin de l'Oie" - "Paradise". Players move, according to the dice on a path marked by numbered boxes and panels shown. Throughout the year, free access.
dsio.detail.titles.languesParlees
/* col-6_sm-12 */ ?>
Opening
Toute l'année, tous les jours.
Prices & payment
Accès libre.
dsio.detail.titles.documentation
Equipement & services
Animaux acceptés
Visites gratuites
Location