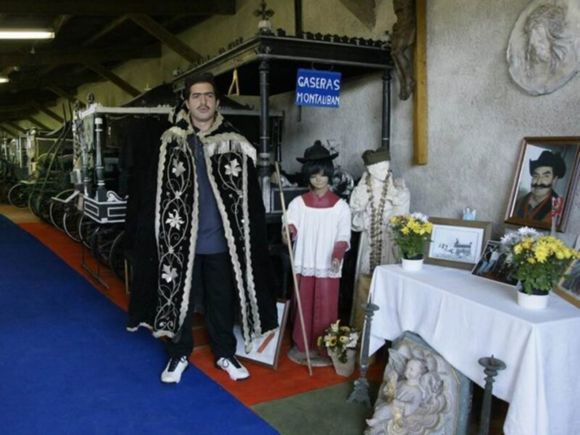 Description
Exposition de 80 corbillards hippomobiles du XVIIIème au XXème siècle.Ne sortez pas vos mouchoirs. Il n'y a rien de triste à visiter l'étonnante collection de corbillards d'Yvan Quercy.

Exhibition of 80 horse-drawn hearses from the 18th to the 20th century.Don't take out your handkerchiefs. There is nothing sad about visiting Yvan Quercy's astonishing collection of hearses.Yes, yes . We are talking about these funeral cars, covered with black hangings embroidered with silver thread. Some even look like a work of art.It all started the day your host, who was looking for a horse-drawn cart for his son, found only an old hearse for his team.Since the seventies, he has recovered more than a hundred in the villages of the region and he has become . philocorbolian.It is now his son who guides you.The name of the "little hearses of our grandfathers, who jerked along the road", as Brassens sang, has only had its current meaning since the 18th century.Originally, the word "hearse" referred to a kind of barge that shuttled between Corbeil and Paris. The museum - which is in fact devoted to everything that was harnessed to a horse in the nineteenth century: carts, barrels and cattle trailers - contains a few gems, such as this royal chariot from 1750, the lower part of which is from the period.The visit ends with a little sparkling wine of Muscat served a few meters from a… confessional.This museum is definitely confusing!Open all year.
dsio.detail.titles.languesParlees
/* col-6_sm-12 */ ?>
Opening
Toute l'année, tous les jours.
Prices & payment
Plein tarif : 8 €
Enfant (2-12 ans) : 6 €.

Equipement & services
Aire de stationnement camping-cars
Parking
Restaurant
Parking autocar
Exposition permanente
Location
dsio.detail.titles.objetLien